The Pilot
FLYING & AIR DISPLAYS FOR WEDDINGS, SPECIAL EVENTS & OCCASIONS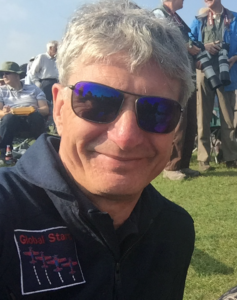 Mark Jefferies is one of the world's most accomplished air show performers, ranked at 9th & 10th in the World (2007/2009). He has been British aerobatic champion on and off since 1994. Mark is 58 years old and has been flying aerobatics for the last 38 years. In addition to his air show performances Mark runs a busy airfield in the UK where he lives with his wife and 2 children. His air show career spans over 36 years where he has performed in a wide range of aircraft from jets through to vintage bi-plane aircraft and more recently a paramotor!. Mark's skill as an aerobatic pilot is proven by his successful career as an unlimited (the top level) aerobatic pilot. He has represented Great Britain (1991 – 2011)  in competitions over the years, during which which he has won medals at international competitions. In the UK, Mark has frequently won the national championships, first winning at unlimited level in 1994 in an aeroplane that he built himself. The Royal Aero Club recognised his skills in aviation and was honoured in 1994 with the solver medal.
He is now concentrating on flying displays wherever in the world he is invited to fly. Countries to date include :- Al Ain (UAE), Australia,  Bahrain, China, Denmark, Dubai, France, Germany, Holland, Hungary, Iceland, India, Ireland, Italy, Korea,  Malta, New Zealand, Portugal, Scotland, Spain, Slovenia, Tasmania, Wales.
By booking Mark you can be sure of a display to the highest caliber.